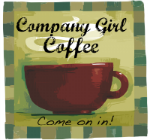 I'm joining
Rachel Anne and the Company Girls
for a cup of coffee this morning ... but if you don't mind, I'll be serving tea! I have quite a variety on hand because my lady at The Spice Rack just re-supplied her bulk foods store and she ordered lots of neat new bulk teas! I'll whip up a batch of
Orange Scones with Lemon Curd
for you all to make up for the lack of coffee. Trust me on this, making coffee is not one of my strong suits, so tea is a better option, unless you
want
to grow hair on your chest ... then a cup of my coffee
might be
in order!
Well, what have I been up to this week? I am happy to report that for the first week in a long long while, we have ALL been healthy all week long! I was praying for a healthy week, and now I am praising the Lord for accomplishing that for us!
We've been doing our schoolwork faithfully each day. There was no co-op this week but both children are hard at work finishing projects and learning new things!
I tried a casserole experiment this week that worked out really well - now I just wish someone would take my idea for altering great casserole recipes to be 'one skillet' meals and market a cookbook! I thought that there was such a cookbook, but I can't find it! I recently ordered a' one skillet' cookbook, but it turns out that there are a lot of recipes that take 1 or more hours of prep time before baking and at least three pans! I should have tried it out by ordering it through the library first!
Our very 'schmelly' kitty Mr. Peppermint has received a pardon due to the cool rainy weather we have enjoyed this week - but as soon as it is warm enough he will get a bath! Phew!
It's been a bit too cool to tackle the wicker project, but as soon as we get some consistent 70's weather in the forecast - I'll be risking carpel tunnel to get these pieces prettied up!

Our Dreamer is a huge help when it comes to bathing her kitty - she lovingly soothes his ruffled nerves and dries him off until he is fluffy again!
Both children have been spending a lot of time outdoors - picking up sticks, playing, riding bikes and doing outside stuff. Dreamer had a long orthodontist appointment this week and the result has been a soft menu for her since Tuesday! Poor honey!

Last night we went out and 'celebrated' the Storyteller's first 'A' on a spelling test - with frozen custard! Mmmm! What a treat!

We've been eating way more beef then usual because of our freezer full of wonderful locally grown grain fed beef. It has such a nice flavor, but I know it isn't as good for us, so we'll just have to spread it out on the menu. At least it is pretty lean and drug free! We usually eat a lot of chicken and fish when we can get it - but our freezers are full of fresh pork and beef!

Another project on my mind - I don't like the color of our front door, and we have been planning to replace it for the 4 years we have lived here, so I haven't painted it - but replacing it is a lot more involved then we had expected since the odd shaped 'light' and framing for our door are all one piece and would have to be custom ordered. $$$$
So, I am determined to paint it. Our house is light grey, our windows and eaves are white, the shutters are black and the front door should be painted ....
any ideas?

Thanks for joining me for coffee tea!
Have another scone and be sure to go visit the other Company Girls! They all make better coffee than me, I'm sure!